Islam World
More than 60 martyred and injured in blast in Shia area of northwest Pakistan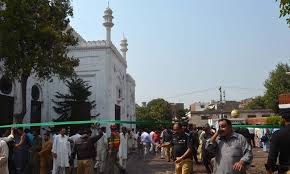 At least 15 people have been martyred and about 50 others wounded
At least 15 people have been martyred and about 50 others wounded after a bomb went off at a retail store in Pakistan's Parachinar Shia district.
According to Pakistan's Dawn news agency, local hospital sources said 47 people were injured as a result of the Sunday blast, more than 15 of whom have been reported in critical condition.
The store was full of people shopping for clothes at the time of the blast.
Early reports said it was not clear whether the bomb was remotely controlled or set off by an attacker.
Security sources said two suspects were arrested at the scene in connection with the explosion.