Asia
Georgia: Conference on "Shia cultural production", researcher cites "Shia Voice" competition as influential media activity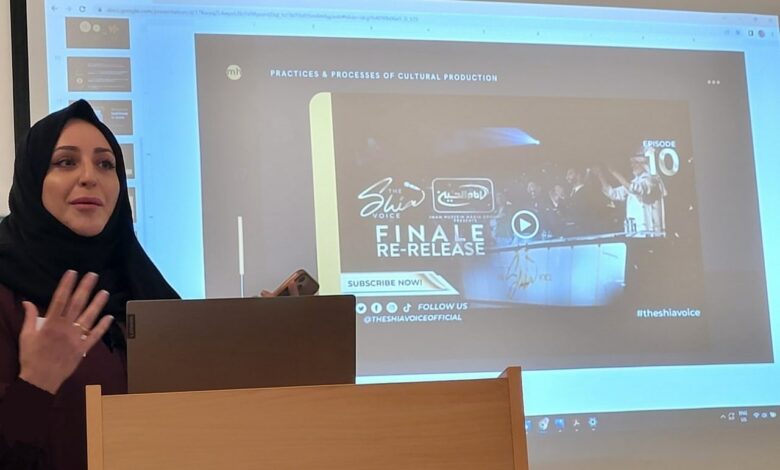 Shia Muslim and Christian media professionals, filmmakers and researchers succeeded in communicating important Shia concepts and issues to the world, through their participation in the conference (Material, Ritual, and Senses: The Dynamic World of Lived Shia Islam), hosted by the Giorgi Tsereteli Institute for Oriental Studies at Ilia University in Georgia, from October 19-21.
The conference, according to information received by Shia Waves News Agency, is supervised by Professor Oliver Sharbrot, funded by the European Research Council at the Swedish University of Lund, and focused mainly on the contribution of the cultural and media product and the airing of Husseini rituals via the Internet and satellites to introduce the true Shia belief.
The conference included a photo exhibition, film screenings, tourist tours, and discussions by experts, artists and contributors to Shia cultural production, among them the journalist Maryam Hilli, who presented a special participation on the "Shia Voice" competition for Husseini chanting, which was held by Imam Hussein TV.
Professor Oliver Sharbrot said "The conference explores the Husseini material and ritual forms of expression, which constitute the most prominent experiences of Shia Muslims in different geographical regions and periods of time," noting that "the conference seeks to reveal the dynamics of lived Shia Islam and its diverse temporal and spatial dimensions."
He added, "During the conference, we discussed how physical and sensory expressions form different aesthetic formations and cultural expressions of Shia Islam, and what is the role that art forms and material cultures play in facilitating Shia ideas and disseminating them to the world."
Sharbrot noted that "such cultural forms (sensual and material), rituals, and forms of devotion foster communal identities and relationships of solidarity that transcend the boundaries of time and space while expressing and promoting social and political values and worldviews."
For her part, Shia producer and journalist (Maryam Hilli) spoke about the success of the Shia Voice competition as a new way to disseminate the Husseini thought, describing it as a wonderful work that has a global impact.
Imam Hussein TV 3 had held the Shia Voice competition in May of this year, and it witnessed the participation of 72 Husseini vocalists and reciters, who were selected from the 750 people who submitted their participations to the competition from European, Islamic, African and other countries.