America
In many US states, Shia Muslims hold mass mourning processions to commemorate the Arbaeen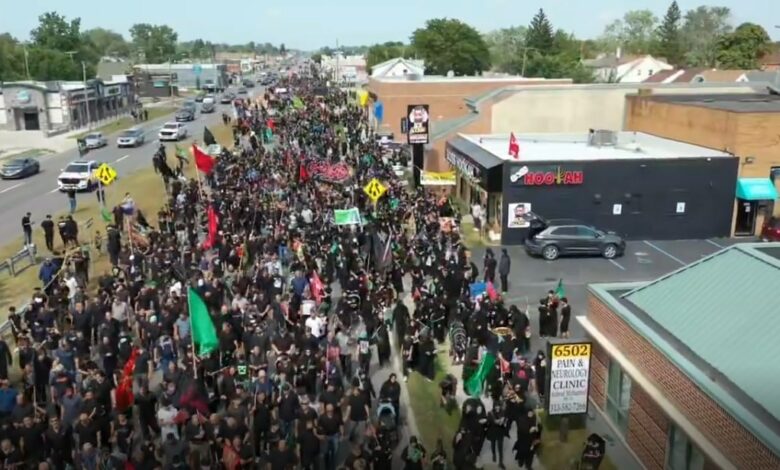 Shia communities in several American states held mass mourning processions in memory of the Arbaeen of Imam Hussein (peace be upon him), as crowds of mourners walked on foot for several kilometers, in conjunction with the revival of the Arbaeen Pilgrimage in the holy city of Karbala.
The Shias of Ahlulbayt (peace be upon them) from the Iraqi, Iranian and Lebanese communities and other residents in the states of California, Michigan, Dearborn, New York, Texas and others participated this year in reviving the processions, which were remarkable and were monitored by the international media.
The mourners set out in the main streets, so that the world witnesses the love and adherence by Shia Muslims to their pure imams (peace be upon them) and their eagerness to revive their sacred rituals.
The participants in the marches carried mourning banners and wore black clothes to announce mourning and to show sadness and bereavement for what happened to the Imam, the Master of Martyrs, his family and his companions (peace be upon them) on the land of Karbala, and as a reminder of his great humanitarian renaissance.
Many institutions, centers and Husseiniyahs also participated in setting up their mourning processions and service Mawkibs along the streets to provide services to the mourners, as well as holding mourning ceremonies and reciting elegies in public squares and parks.
The Shia mourners expressed their great sadness and sympathy to the Noble Prophet and his pure family (peace be upon them) on this anniversary, stressing their keenness to revive the holy Husseini rituals.