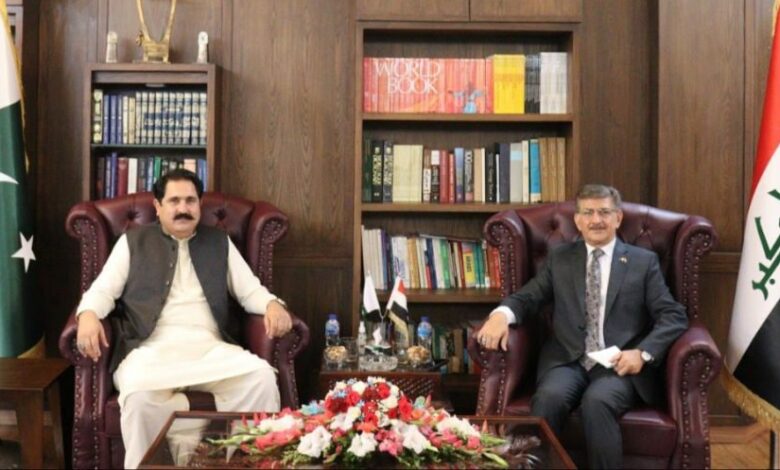 Yesterday, the Iraqi ambassador to Pakistan, Hamid Abbas Lafta, assured the Pakistani Minister of Expatriates and Human Development, Sajid Hussain Al-Turi, that his country will provide the necessary facilities to receive Pakistani pilgrims to participate in the commemoration of the Arbaeen of Imam Hussein (peace be upon him) in holy Karbala.
During his meeting with the Pakistani minister, Lafta discussed bilateral relations and joint cooperation to serve the two Muslim countries.
The Iraqi ambassador told his guest, the Pakistani minister, that "Iraq has issued entry visas to 25,000 Pakistanis to participate in the Arbaeen revival this year, and there is a plan to issue more visas."
While Al-Turi said in press statements followed by Shia Waves News Agency: "Millions of Pakistani pilgrims visit Iraq on Arbaeen, but they face various problems in obtaining their visas."
He added that "most of the pilgrims, who are poor and people with limited income, go to Mashhad and Karbala via the land roads."
Al-Turi also called on the Iraqi ambassador to lift the ban on issuing visas to Pakistanis under the age of 40; because many of them are deprived of the privilege of Hajj.
The Pakistani minister also explained that "his ministry, along with the Pakistani ministries of foreign affairs and religious affairs, is preparing a comprehensive policy of visits to facilitate the arrival of pilgrims and the issuance of entry visas for pilgrims to commemorate the Arbaeen."
In a related context, the Iranian ambassador to Pakistan, Muhammad Ali Al-Husseini, said: "His country has agreed to grant Iranian entry visas to Pakistanis who hold entry visas to Iraq, so that they do not face problems on the Iranian-Iraqi borders during their participation in the blessed Arbaeen revival."