Culture & Arts
250 children in Bahrain participate in drawing board about Imam Hussain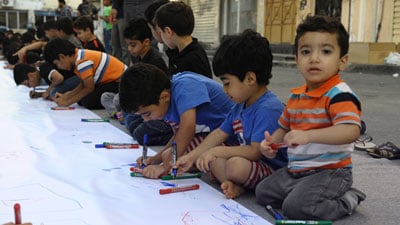 Rayaheen Zahra program for Matam Sanabis arranged a project of the longest drawing board regarding Imam Hussain, peace be upon him, for children. 
The project aims to discover the talents of children by allowing them to express their feelings towards Ashura and Imam Hussein, peace be upon him.
The project also aims to enhance cooperation between the children through drawing in one large panel reaching a length of 50 meters. 
It is worth mentioning that the number of children enrolled in the project exceeded 250.