Europe
Shirazi Religious Authority representative visits the Republic of Kosovo and meets several religious and political figures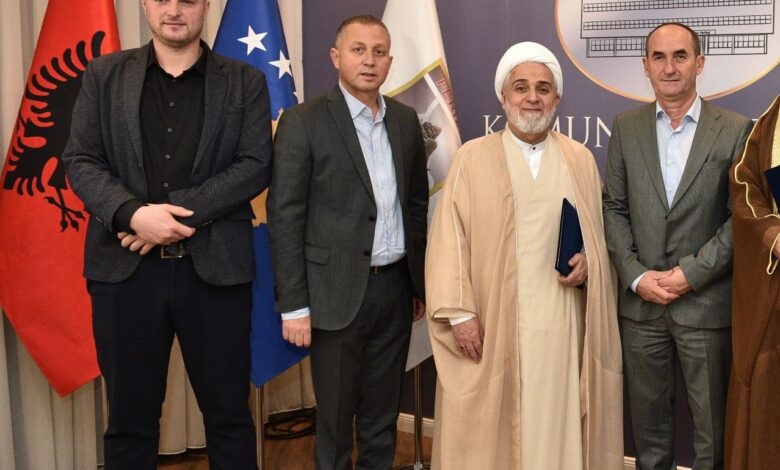 The representative of the Shirazi Religious Authority and head of the International Council of Religious Scholars, Sheikh Saleh Sibaway, made a unique and unprecedented visit to the Republic of Kosovo in southeastern Europe, which included several meetings and tours that emphasized the greatness of interfaith dialogue and the renunciation of violence and extremism.
Sibawayh said in an exclusive interview with Shia Waves News Agency about his visit to the country: "Several meetings brought us together with high-ranking political, religious and social figures in the Republic of Kosovo, which came upon an invitation presented to us by the head of the Foreign Relations Committee in the Kosovo parliament, Hagi Abazi."
The delegation was headed by the Sheikh and the membership of a number of members working in the International Islamic Council of Religious Scholars.
Sibaway explained that the Council's first activities and programs were "the meeting with MP Hagi Abazi, Chairman of the Foreign Relations Committee in the Kosovar Parliament and Deputy Prime Minister, as well as the meeting with His Excellency the former President of the Republic, Mrs. Atefeh Yahya Agha, in her parliamentary office in the capital, Pristina."
Sheikh Sibaway conveyed the greetings and prayers of Grand Ayatollah Sayyed Al-Shirazi to all of the personalities he visited and also conveyed His Eminence's emphasis on the greatness of human dialogue between different peoples, sects and religions.