Islam World
Bahrain upholds 10 year jail term for Shiite journalist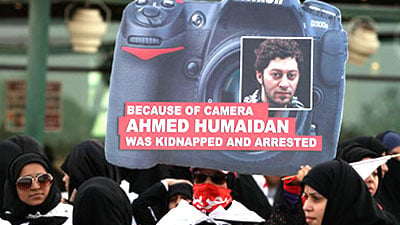 The Supreme Court of Appeal in Bahrain has upheld a 10-year-jail sentence on photojournalist Ahmad Humaidan.
Humaidan was allegedly convicted of taking part in an attack on a police station in Sitra in April 2012.
Human rights groups say he was simply covering pro-democracy protests that erupted among Bahrain's Shia majority.
The photojournalist won the National Press Club's John Aubuchon Press Freedom Award for 2014 and has always maintained his innocence.
He has been in detention since December 2012. Following repeated home raids against his family, plain-clothes security agents abducted Humaidan from a shopping mall on the night of 29 December 2012 and took him to the Central Investigation Department, where he was interrogated without the presence of a lawyer.