Islam World
13th annual death anniversary of Imam Shirazi, may Allah bless his soul, marked in Jinousan village in Bahrain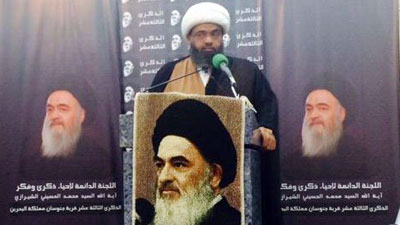 On the occasion of the 13th death anniversary of the great religious authority the late Grand Ayatollah Sayed Mohammad Husseini Shirazi, may Allah bless his soul, a funeral commemoration's ceremony was held in Sayed Kadhum Husseiniyah in Jinousan village in Bahrain.
The ceremony was attended by a large number of high-ranking personalities and groups of adherers of Ahlulbayt, peace be upon them.
The ceremony commenced with Quran recitation, followed by a speech delivered by the Eminent Sheikh Muen Taheri about this occasion. Then, a documentary film about the biography of Imam Shirazi was screened, followed by reciting some eulogies.