Islam World
Japanese Shia Muslims attend mourning ceremonies inside the Imam Reza holy shrine in Mashhad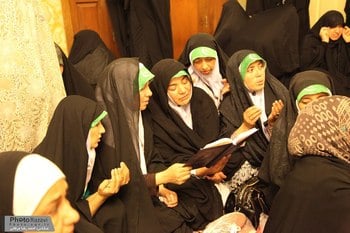 from Japan attended a mourning ceremony for Imam Hussein, at the Imam Redha Shrine
A number of devotees of the Ahlul-Bayt, peace be upon them, from Japan attended a mourning ceremony for Imam Hussein, peace be upon him, at the Imam Redha Holy Shrine in the holy city of Mashhad.
Manager of the Japanese caravan said they launched a Husseiniyeh in Tokyo called 'Al-e Muhammad , peace be upon them, or (descendants of Muhammad)' and many devotees from different countries such as Lebanon, Emirates, Saudi Arabia, Pakistan, India, and Afghanistan gather in this center to show their devotion to Ahl al-Bayt, peace be upon them.
He added that besides helping to the solidarity among Muslims, the center provides for their further sympathy and consultation against the enemies' cultural attack.