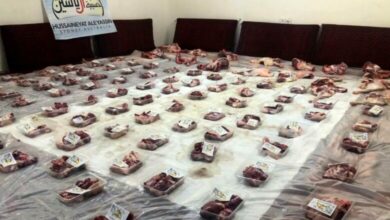 The Charity Committee of Ale Yasin Mosque and Hussainiya, one of the centers affiliated with the Office of Grand Ayatollah Seyyed Sadiq Shirazi in Sydney, Australia, sacrificed seven sheep in the framework of its charitable activities.
This action was carried out on the occasion of the month of Dhul-Qa'da and the birthdays of Sayyidah Fatima Masoumeh, peace be upon her, and Imam Reza, peace be upon him, as an offering for health and deliverance of Imam Mahdi (may Allah hasten his reappearance).
The sacrificial meat was distributed among the needy and orphaned Shiite families in Sayyida Zainab region in the suburbs of Damascus, the capital of Syria.