NEWS
Australian National Imams Council concerned over Indian PM's visit to Australia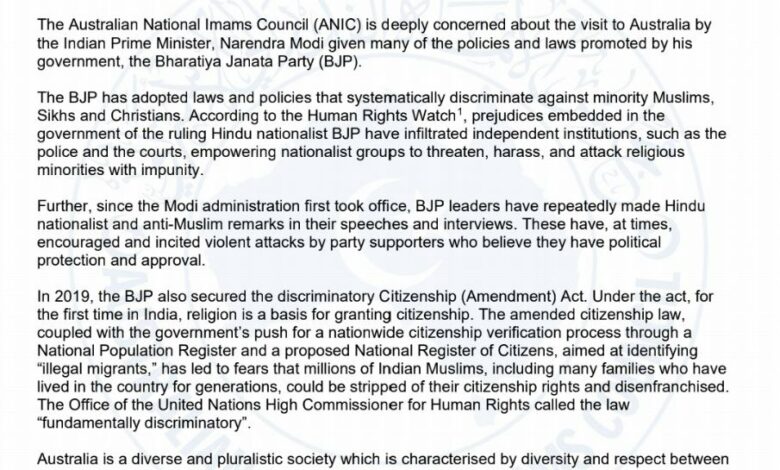 The Australian National Imams Council (ANIC) has expressed its deep concern over the visit of the Indian Prime Minister, Narendra Modi, to Australia.
The Australia-based Islamic body of Muslim Imams, scholars and clerics said in a statement on their official website on Wednesday, a copy of which was received by Shia Waves Agency, that the Council is, "deeply concerned about the visit to Australia by the Indian Prime Minster Narendra Modi, given many of the policies and laws prompted by his government, Bharatiya Janata Party (BJP)."
The statement added that, "The BJP has adopted laws and policies that systematically discriminate against the Muslim community", noting that, "According to the Human Rights Watch, prejudices embedded in the government of the ruling Hindu nationalist BJP have infiltrated independent institutions, such as the police and the courts, empowering nationalist groups to harass, threaten and attack religious minorities with impunity."
It continued that, "Since Modi administration first took office, BJP leaders have repeatedly made Hindu nationalist and anti-Muslim remarks in their speeches and interviews, which encouraged and incited violent attacks by party supporters who believe they have political protection and approval."
The council members called on the Australian political leaders including the Prime Minster, to not overlook or ignore such violations against human rights and to address them with a view to seeking response and redress.
According to international human rights organizations and groups, Muslims are frequently targeted by the Indian ruling regime. Reports have documented incidents of anti-Muslim hatred, persecution, killing and house and mosque bulldozing.