NEWS
Blasts in Baghdad Shia neighborhoods kill at least 12 and injure many more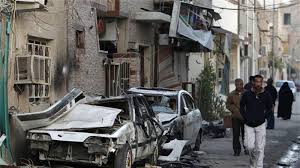 At least 12 people were killed when three bombs went off today in mainly Shi'ite neighborhoods
At least 12 people were killed when three bombs went off today in mainly Shi'ite neighborhoods in central Baghdad, security and medical sources said.
Two suicide bomb attacks in the central commercial district of Bab al-Shargi killed at least eight people and wounded 18 others. A third blast in the nearby Bab al-Muadham district killed four people and wounded nine, the sources said.
No group immediately claimed responsibility for the attacks, but they took place in Shia areas often targeted by insurgents from the so-called Islamic State terrorist group.