Europe
"Khadija Bint Khuwailid Street" in a French municipality angers supporters of the far-right movement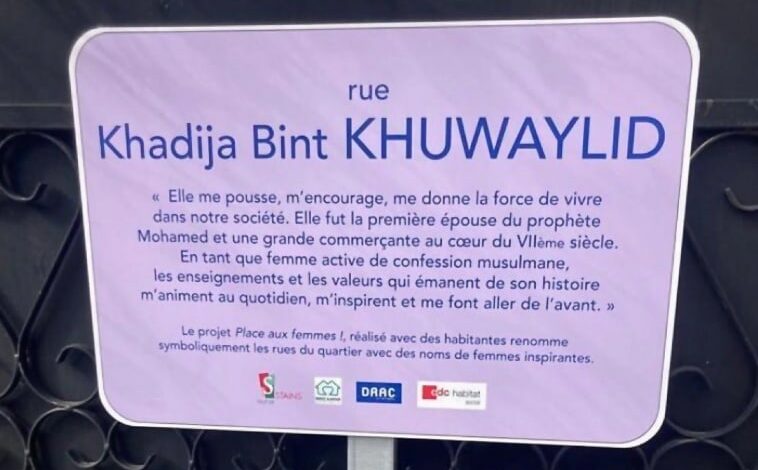 A French municipality's decision to name a street in the municipality after Khadija bint Khuwailid, the wife of the Messenger of God Muhammad – peace be upon him and his progeny – sparked widespread discontent among supporters of the far-right movement in France, who called on the authorities to intervene to cancel the symbolic designation of "De Pontoise" street.
The municipality of Stan, located in the northern suburbs of Paris, had launched the "Women's Place" project in order to honor the female influencers who made history in several countries, and to launch their names in a symbolic way on the streets of the municipality. Among these women are Khadija bint Khuwaylid, the fighter in the Algerian liberation revolution Jamila Boubasha, the Moroccan sociologist Fatima Mernissi, and the Swedish environmental activist Greta Thunberg.
Some belonging to the French far-right movement republished pictures of members of the municipal council of Stan, some of whom are of Arab and African origin, and an activist belonging to the far right claimed that the symbolic designation of the street after the wife of the Prophet of Islam, peace and blessings be upon him, "is real evidence that the theory of the Great Replacement is a real danger to France."
The "Great Replacement" is a theory formulated by the French right-wing thinker Renaud Camus (born in 1946), which says that France is suffering from a conspiracy aimed at changing the demographics by entering African, Arab and Latin communities.
Many believe that this theory is racist and reinforces hatred towards the communities and minorities present in France.
The municipality of Stan is headed by a French citizen of Algerian origin, Azzedine Taibi, who is affiliated with the French Communist Party since 2014.