World
Canadians scrub hate messages off mosque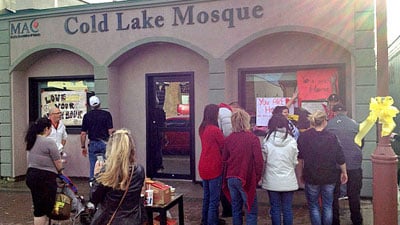 A mosque in the north-eastern Alberta city in Canada was vandalized; spray-painted with "go home."
The vandalism included that phrase, which was spray-painted above the front door of the place of worship for Muslims.
The mosque's windows were also smashed.
the Mosque board director says there haven't been any previous acts of vandalism during the four years the mosque has been at its location.
He doesn't know if the vandalism somehow relates to the recent attacks on Canadian soldiers in Quebec and Ottawa.
Soon after the news broke, residents showed up at the mosque to help clean and repair the damages.