World
Muslims and Christians in Nigeria come together in support of Sheikh Zakzaky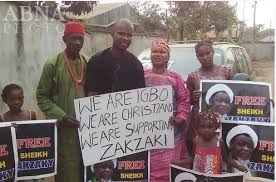 members of the Islamic movement in Nigeria (IMN) staged a peaceful protest in major areas
Abia and Rivers states were agog on Monday, February 15, as members of the Islamic movement in Nigeria (IMN) staged a peaceful protest in major areas within the two states.
The protesters were seen demanding the immediate and unconditional release of the IMN leader Sheikh Ibraheem Zakzaky, his wife and other detained members of the movement including women and children.
In the same vein, Shiite Muslims have expressed gratitude for the kindness shown to them by Christians. "For all the support and solidarity of our Nigerian Christian brothers and sisters in humanity, we say we are grateful. With these your actions you showed us that humanity is one and that we are not enemies of each other," an IMN statement on an official report partly read.