World
Police and protesters clash in Netherlands over plan for refugees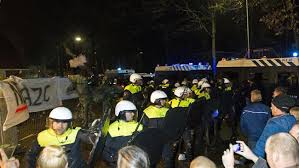 Clashes have broken out in the Netherlands between police and demonstrators
Clashes have broken out in the Netherlands between police and demonstrators protesting against government plans to house over 1,000 refugees and asylums seekers in a town in the country's west.
Violence erupted at the municipal council in the town of Geldermalsen, where a meeting aimed at discussing the accommodation of 1,500 refugees was being held late Wednesday.
Officials inside the council were forced to evacuate to higher floors after demonstrators stormed the building.
Police sources said warning shots had been fired and that at least one protester had been detained.
According to officials, some 2,000 people had taken part in the protest.
Figures released by the International Organization for Migration (IOM) show that some 933,770 refugees have reached Europe's shores so far this year while more than 3,619 people have died before reaching the continent.