World
Shia Muslims march against radicalization in the Netherlands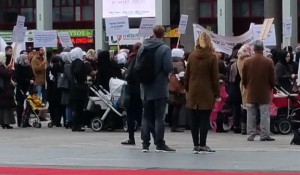 Shia Muslim community walked a silent march through the city center against radicalization
Some 300 from the Rotterdam Shia Muslim community walked a silent march through the city center against radicalization. The march was both in honor of Imam Hussein, peace be upon him, and in memory of the victims of terrorist attacks.
The silent demonstrators marched from the Schouwburgplein, through the Hofplein, the Coolsingel and Meent and then back to where they started.
By participating in such marches, demonstrators tried to distance themselves from Salafism. The demonstrators also marched from Imam Hussein,peace be upon him, whose ideology stand for justice, freedom, and equality.