World
British woman arrested over abuse of Muslim group on London bus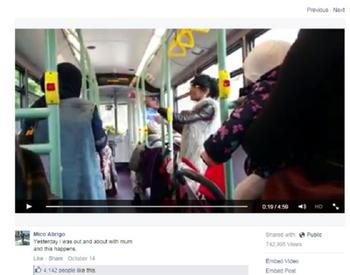 The video was filmed on a bus in north-west London and uploaded on Facebook by a person
A British woman was detained by police and framed charges of a racially aggravated public order offence after she racially abused a Muslim group on a London bus.
The dilemma started when a footage showing a woman's anti-Muslim tirade on a London bus was uploaded to Facebook.
The video was filmed on a bus in north-west London and uploaded on Facebook by a person, who wrote, "Yesterday I was out with my mum and this happens."
It starts with a woman in the middle of a rant. She's shouting and swearing at a pregnant Muslim woman, and threatening to kick her in the stomach.
The abusive woman goes on to lob several insults, calling the other woman an ISIS supporter, a suicide bomber and saying: "go back to your country."
At one point the bus driver stops the bus and tries to calm the woman down but that didn't stop her.
The incident sparked criticism on social networks.