Religious Authority
Believers congratulate Grand Ayatollah Sayed Shirazi on the occasion of Eid al-Adha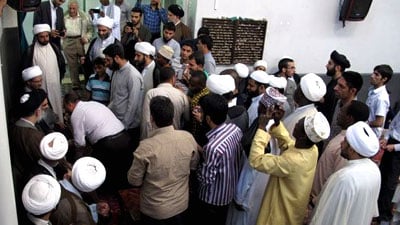 A large number of believers, including scholars, hawza students, and other personalities from Iraq, Gulf countries, Africa and Europe poured into the house of the Eminent Grand Ayatollah Sayed Sadiq Husseini Shirazi, may Allah prolong his life, in the holy city of Qom, to congratulate His Eminence on the occasion of Eid al-Adha.
After congratulating the guests, His Eminence asked Allah Almighty to bless them all and to accept their good deeds.
Grand Ayatollah Sayed Shirazi, may Allah prolong his life, also supplicated for Shia people and all oppressed people in the world to be safe and to be problem-free.