Iraq
To discuss memorandum of understanding with institutions and plan for month of Muharram, Misbah Al-Hussein Foundation holds its periodic meeting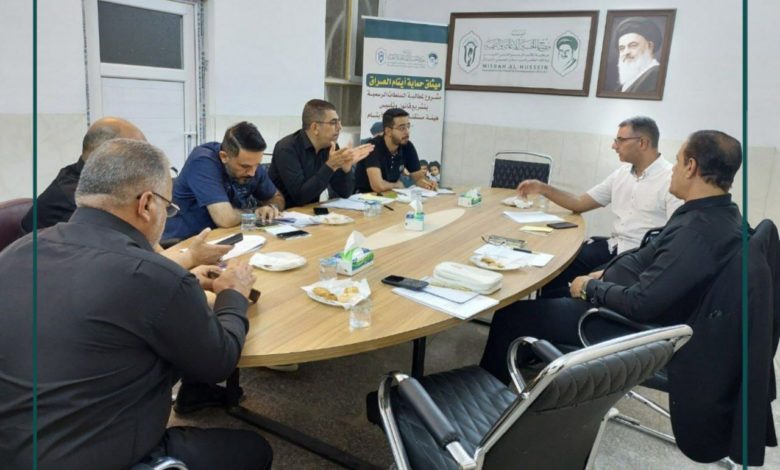 The Misbah Al-Hussein Foundation for Relief and Development in Holy Karbala, held its periodic meeting to discuss the memorandum of understanding with the institutions and the plan for the holy month of Muharram.
A statement by the Foundation, received by Shia Waves News Agency, stated that the Foundation, headed by its director, Abdul-Saheb Al-Kashwan, and the presence of a number of its officials, and the head of the legal team for the project (the Charter for the Protection of Iraq Orphans), Dr. Khaled Al-Ardawi, held its regular weekly meeting.
The statement added, that the Foundation's activities were discussed last week, and the proposals paper submitted by department officials in the Foundation were discussed, regarding the memorandum of understanding proposed as a forthcoming project by the Foundation, the aim of which is to open up to a number of humanitarian, social, cultural and charitable institutions and associations, for the purpose of cooperation and providing what is needed to help underprivileged families and families of orphans in particular to improve their living conditions.
The statement continued, "The foundation's preparations for the days of the sacred month of Muharram, and the days of the Husseini mourning, were discussed, according to the directives of the Office of the Supreme Religious Authority, His Eminence, Grand Ayatollah Sayyed Sadiq al-Husseini al-Shirazi, may Allah prolong his life, on the need to pay attention to the revival of the Husseini mourning, and to provide everything that glorifies these rituals, and perpetuates the vitality of reviving the Husseini rituals.