Afghanistan
Women publicly flogged for venturing out without male companion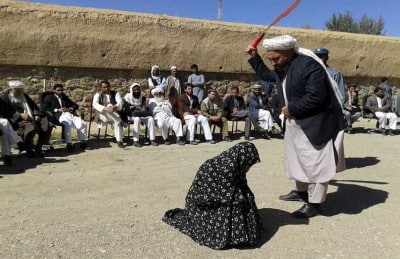 Years have gone by, generations passed, but nothing has changed for women in Afghanistan, who continue to face atrocities under the Taliban. Yet another evidence of barbarity against women surfaced from the languishing country as a video showing brutal flogging of women went viral on social media.
The incident emerged from the Takhar province, where this hapless woman was beaten black and blue for stepping out without a male companion against the 'Islamic diktats' of the regime.
Sharing the clip of the barbaric incident, former policy special advisor to Minister for Afghan Resettlement and Minister for Refugee UK Shabnam Nasimi said, "The women of Afghanistan are experiencing hell on earth under Taliban regime. We mustn't turn a blind eye."
After capturing Afghanistan in 1996 for the first time, the Taliban imposed Sharia law on the territories it controlled in the country.
As per Taliban diktats, women in Afghanistan cannot step out of their houses without wearing burqa or unaccompanied by a male. They are subjected to public flogging if they flout any of these norms.