Islam World
600 Bahraini detainees on hunger strike to stop torture in prison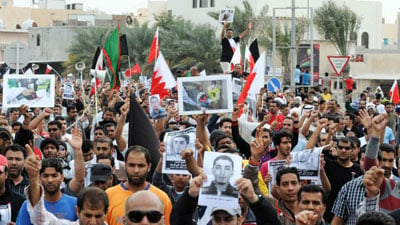 According to information received by a Bahraini Human rights center, around 600 detainees at the dry dock detention center have entered a hunger strike starting from 20 August 2014 under the title "Stop Torture in Prison".
 In a statement released by them, the prisoners stated that detainees are suffering different types of ill-treatment including beatings, insults, deprivation from using the toilets, solitary confinement, and being forced to stand for long hours.
Meanwhile, Bahrain regime has yet again increased its attacks against citizens by allowing its security forces to raid Shia villages across the kingdom, hoping to weaken the people's determination to see through the democratic changes they so desperately want.
Members of rights activists have warned over the past weeks that the regime has actively worked to destabilize the pro-democracy movement by allowing Sunni foreign nationals to become naturalize, thus making a mockery of Bahrain's national identity.