Islam World
Bahrain's Salafist leader assigned as royal court advisor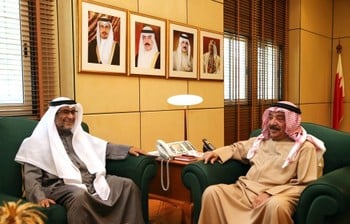 announced the assignment of the head of Salafist Al-Asalah Society, former minister Ghanim Albuainain
The official Bahrain News Agency announced the assignment of the head of Salafist Al-Asalah Society, former minister Ghanim Albuainain, as a Royal Court advisor.
BNA said that the minister of the Royal Court Khaled bin Ahmad Al Khalifa received in his office at the Royal Court Ghanim bin Fadhel Albuainain on the occasion of his assignment as an advisor at the Royal Court of the Shura Council and the House of Representatives.
Salafism or Wahhabism is a doctrine of Sunni radicals which resulted in the creation of ISIS terrorists in the world.
Despite the fact that Bahrain has a large Shiite population, the government is still using extremist Salafists for the key positions.