Islam World
Al Khalifa regime strips 13 Bahraini inmates of citizenship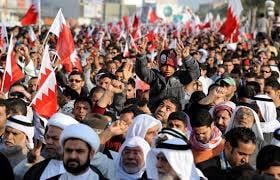 Bahrain has revoked the citizenship of over a dozen people in the kingdom
A court in Bahrain has revoked the citizenship of over a dozen people in the kingdom for allegedly establishing a terrorist cell.
According to reports, the court revoked the citizenship of 13 Bahrianis after sentencing each from 10 to 15 years in jail.
Most activists opposed to the Al Khalifa regime are convicted by Bahraini courts for establishing terrorist groups, the reports added.
238 Bahrainis have been stripped of their citizenship since the start of an uprising in the country, according to the reports.
Since mid-February 2011, many protesters opposed to the brutal regime have held numerous peaceful rallies in the streets of the kingdom, demanding their human rights.