Islam World
Grand Ayatollah Sayed Shirazi's son arrives in Holy Medina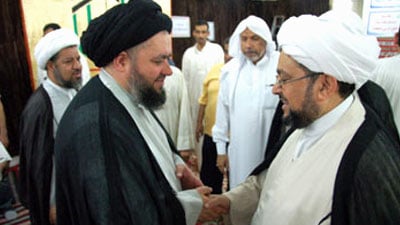 His eminence also received pilgrims from Iraq, Africa and other Islamic countries
The Eminent Hujatul Islam Sayed Hussein Shirazi, son of the Eminent Grand Ayatollah Sayed Sadiq Husseini Shirazi, may Allah prolong his life, arrived in Holy Medina.
Officials of Grand Ayatollah Sayed Shirazi's Hajj expedition and a crowd of pilgrims received his eminence to discuss latest subjects related to hajj and jurisprudence.
His eminence also received pilgrims from Iraq, Africa and other Islamic countries, among them the orator Sheikh Usama al-Attar and the orator Sayed Mahmoud al-Husseini.
Like previous years, member of the Hajj expedition held a symposium to discuss subjects related with youth and development. Participants suggested holding cultural courses that focus on spiritual aspects and human development for youth generation.