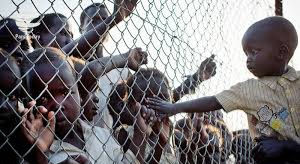 More than 1,200 refugee children under 5 have died in Sudan amid on-going fighting between the army and the Rapid Support Forces (RSF) paramilitary group, the UN refugee agency said Tuesday.
These children have died in nine camps in the period between 15 May and 14 September, due to a deadly combination of a suspected measles outbreak and high malnutrition, UNHCR said in a statement.
Over 3,100 suspected cases were also reported in the same period and more than 500 suspected cases of cholera have been reported in other parts of the country along with outbreaks of dengue and malaria, the statement added.
UN figures showed that more than 5.25 million people have been displaced by the ongoing fighting in Sudan, and warned of a shortage of medical staff, life-saving medicine, and critical equipment to address the outbreak of diseases in war-torn Sudan.