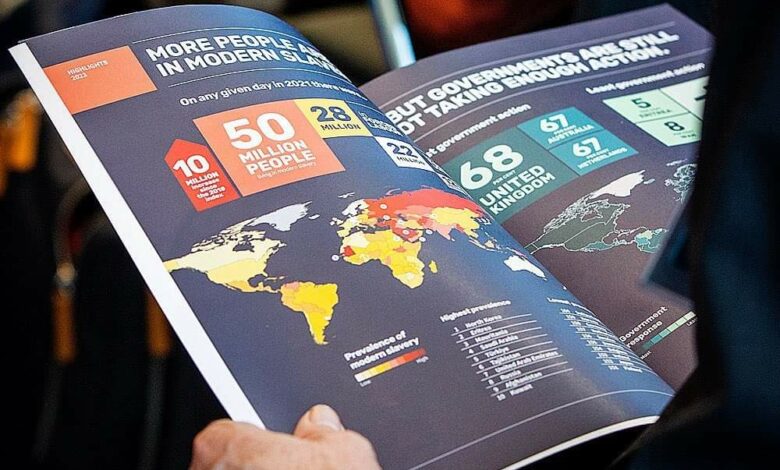 The number of people becoming victims of modern slavery has increased in recent years, a new study published in London on Wednesday shows.
According to the Global Slavery Index released by the human rights organization Walk Free, an estimated of 50 million people were "living in situations of modern slavery" in 2021; an increase of 10 million since a previous estimate five years ago.
The situation is worsening "against a backdrop of increasing and more complex armed conflicts, widespread environmental degradation" and repercussions from the COVID-19 pandemic, among other factors.
The human rights group describes modern slavery as covering "a set of specific legal concepts including forced labor, debt bondage, forced marriage, slavery and slavery-like practices, and human trafficking."
Forced labor accounts for 27.6 million of those in modern slavery, while forced marriage accounts for 22 million, or nearly one of every 150 people in the world, the report said.
According to the report, Eritrea, Mauritania and North Korea have the highest number of modern slavery victims, with Saudi Arabia, Turkey, the United Arab Emirates, and Kuwait were also among the top 10.
The organization explained that many of these regions have witnessed conflict, political instability, and authoritarianism, while several others are home to a large refugee and migrant worker population "who are often not afforded the same legal protections as citizens and are highly vulnerable to exploitation."
According to the index, when countries are evaluated on numbers alone, the world's biggest democracy, India, has the most people trapped in modern slavery, followed by China, North Korea, Pakistan, Russia, Indonesia, Nigeria, Turkey, Bangladesh and the United States.
The report's authors point out that six of those countries are in the G20 – and together they're estimated to import $468 billion worth of goods potentially made through forced labor each year, including electronics, garments, palm oil and solar panels. That's $100 million more than the last count in 2018.
It concluded that the largest responsibility and opportunity sits with the countries who are in an economic position to do something about ending slavery, who can build supply chains differently and who are engaging with repressive regimes all over the world.