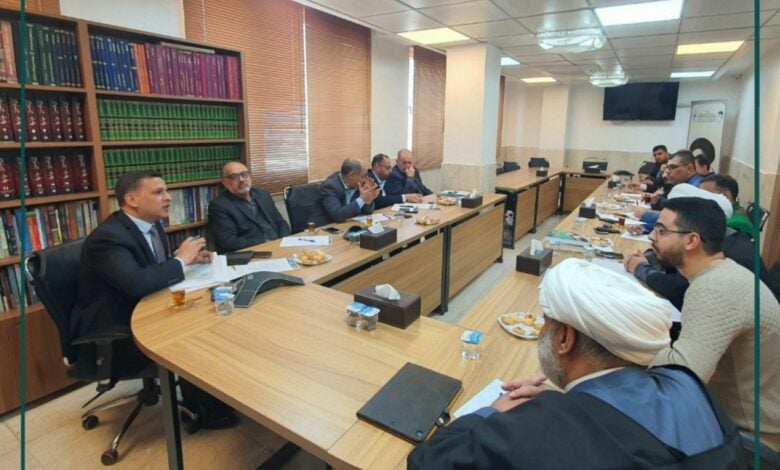 Misbah Al-Hussein Foundation for Relief and Development, which is affiliated with the Office of the Supreme Religious Authority, Grand Ayatollah Sayyed Sadiq Al-Husseini Al-Shirazi, continues to hold its discussion meetings with a number of specialists about its new project (Vision of Holy Karbala 2030 – 50 Million Pilgrims in Arbaeen), where a number of specialists and those concerned with the development of cities and infrastructure attended the weekly meeting of the Foundation, which was chaired by Sheikh Mustafa Al-Muhammadi, the head of the Foundation, Dr. Muhammad Al-Sayed, a director in the Ministry of Planning, Engineer Basem Ali, former director of the Planning Department in Karbala, Engineer Hassan Al-Sharifi, Director of the Karbala Municipality, Fayez Abu Tahin, former Director of Karbala Electricity Department, and Diaa Al-Baghdadi, former director general of the Ministry of Planning.
During the meeting, the preliminary paper of the project was discussed provided by Misbah Al-Hussein Foundation.
The attendees discussed their proposals about the introductions of the project, and what should be prepared in terms of a vision that would create a real starting point to start the steps that make the project a tangible reality.
The guests praised the foundation and its attention to this important matter, related to the enormity of the Arbaeen Pilgrimage and its ideological and historical importance. At the same time, they expressed their complete readiness to cooperate with everything they could to make the project a success, and make it a tangible reality that serves the city and the Husseini rituals during the Arbaeen Pilgrimage.