NEWS
Australian ambassador in Iraq expresses admiration for Imam Ali Shrine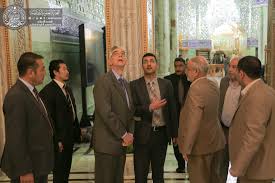 Mr. Christopher Langen man, has visited Imam Ali Holy Shrine, where he was greeted by a member of the Board of Directors of Imam Ali Holy Shrine
The new Australian ambassador to Iraq, Mr. Christopher Langen man, has visited Imam Ali Holy Shrine, where he was greeted by a member of the Board of Directors of Imam Ali Holy Shrine Mr. Ahmed al-Jawahiri and officials from the Public Relations.
Mr. Ahmed al-Jawahiri and the officials in Public Relations Department informed the ambassador about the plans of the vital projects that the Holy Shrine is striving to accomplish to the noble pilgrims. The ambassador toured the Imam Ali Holy Shrine and noticed the historical, archaeological and architectural places at the Holy Shrine.
The ambassador expressed his fascination and admiration for the exceptional monuments in the Holy Shrine.