NEWS
Millions of mourners mark Ashura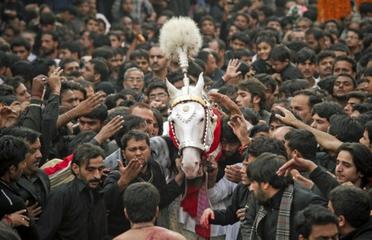 the faithful have come out in their millions to the holy city of Karbala to commemorate the anniversary of the martyrdom of Imam Hussein

With heavy hearts, the faithful have come out in their millions to the holy city of Karbala to commemorate the anniversary of the martyrdom of Imam Hussein, peace be upon him, the grandson of Prophet Muhammad, peace be upon him and his progeny.
Millions of Shia Muslims participated in the run of Twereej and Tatbeer in remembrance of the suffering imposed on the religious icon, his family and companions, by the tyrant of the time Yazid, may Allah curse him.
Mourning processions are also underway around the world in countries like Pakistan, the Republic of Azerbaijan, Lebanon and Australia. Similar ceremonies will also be held in Europe, America and Africa later in the day.
In Sydney, more than 5,000 people took to the streets to observe Ashura, chanting slogans in honor of Imam Hussein and his family's sacrifices.