India
Indian 'Minute Mirror' newspaper: The primary lesson that Muharram gives us is to stand up against injustice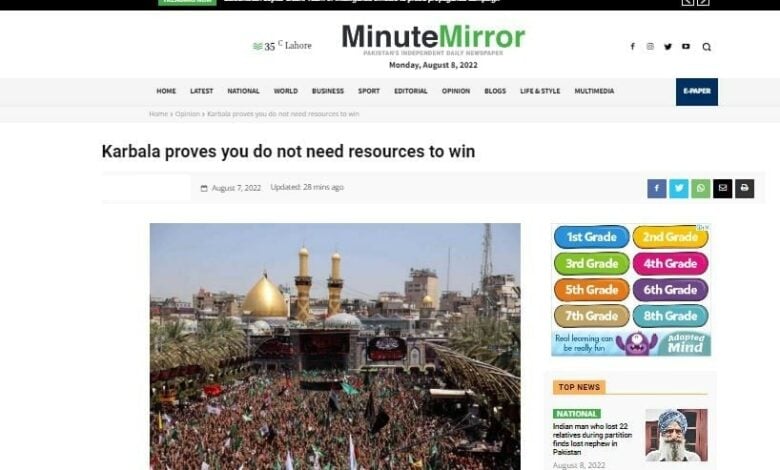 In an article, the newspaper (Minute Mirror) called on Muslims from around the world to be on the side of Imam Hussein, peace be upon him, in his war against injustice, and not to remain silent as did their predecessors who failed the Husseini Cause during the painful tragedy of al-Taff.
The newspaper pointed out the extent of the dangers facing Muslims if they remain silent in the face of injustice and do not demand their rights, and to be inspired by the great principles of Ashura.
It indicated in its article, which was translated by Shia Waves News Agency, "There have been many deaths and tragedies in Islam, but the tragedy of Karbala is the one that is revisited every year. The purpose of doing so is to remind Muslims of the importance of many things they take for granted.
The primary lesson that Muharram gives us is to stand up against injustice. The battle of Karbala was not a battle between two groups; it was a battle between the right and the wrong. It was a message of Allah to the Muslim nation to stand up against the wrong no matter how strong the wrong side is."
The article continued: "Cut to 2022, Muslims are suffering in different parts of the world. Different Yazids in the world continue to oppress our brothers and sisters in Kashmir, Palestine, Syria, Yemen and elsewhere."