Uncategorized
Holy Karbala, Najaf see funeral of revered scholar Ayatollah Sayed Mohammad Mahdi Al-Kharsan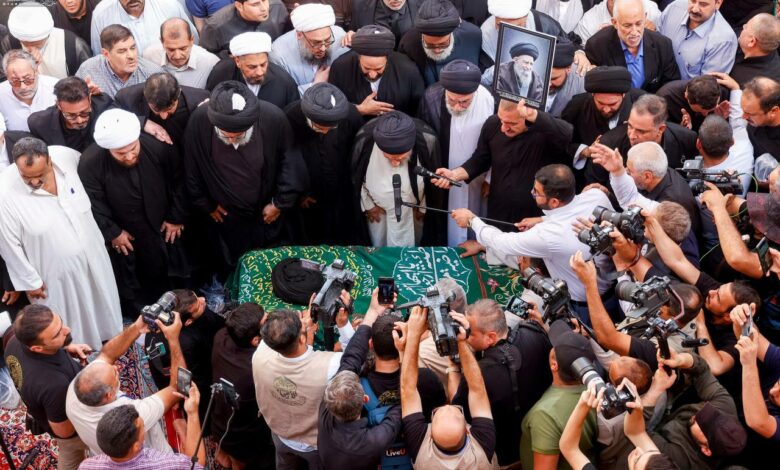 The holy body of Ayatollah Sayed Mohammad Mahdi Al-Kharsan was given funeral processions on Sunday afternoon, in Holy Karbala, and on Monday morning, in Holy Najaf, with the presence of Religious Authorities, Seminary instructors and pupils.
Ayatollah Sayed Mohammad Mahdi Al-Kharsan Al-Mousavi, one of the prominent scholars of Najaf, departed this world on Sunday, the first of Rabi al-Awwal, September 17. He was the imam of the Sheikh al-Ansari Mosque in Holy Najaf and led congregational prayers, and self-reportedly, avoided entering politics.
Ayatollah Sayed Mohammad Mahdi Al-Kharsan was born on the 9th of Rajab 1347 AH in Holy Najaf. His father, Sayed Hassan bin Hadi Al-Kharsan was considered one of the scholars of Najaf, who had benefited from the education of great Shia Jurists, such as Sayyed Abul Hasan al-Esfahani, Mohammad Hossein Naini, Zia al-Din Iraqi and Abu Turab al-Khansari.
Ayatollah Kharsan was given introductory and primary Hawza teachings in Najaf seminary by his father and instructors such as Ali Samakat al-Helli and Sadiq al-Qamousi, and took advanced courses (Darse Kharij) with great Jurists, Sayyed Abul Qasim al-Khoei, Sayyed Abdul Hadi al-Shirazi, and Sayyed Mohsen al-Hakim.
The Mashayikh (Authorities in transmission of Hadith) of the late scholar of God were Agha Bozorg Tehrani, Seyed Mohammad Sadiq Bahrul Uloom, Seyed Ali Behbahani, Seyed Abdul Ali Sabzevari, Seyed Morteza Khalkhali, Seyed Hassan Bojnordi and his father.
He has granted permission of Hadith transmission to some scholars such as Seyyed Abd ul-Sattar al-Hassani, Kamel Salman al-Jubouri and Seyyed Salman Hoda Al-Tameh.
Ayatollah Al-Kharsan spent most of his life researching and correcting Shiite books. He was interested in writing from a young age and started writing on the subject of Abdullah bin Abbas. Soon after, Tehran's Islamiyyah Publications invited him to help in the project of correcting Allamah Majlisi's Bihar al-Anwar, which gave him the chance to correct and research eight volumes out of 110 volumes of the printed Bihar al-Anwar series.
Many of his works have been published or are in the process of publication, including the books "Ali Imam e Salehan", which is a commentary on an ode by Grand Ayatollah Seyyed Abul Qasim al-Khoei about the Imamate of Amir al-Momineen, "al-Mohsin, born or miscarried is descendant of the Prophet", "Prostration on Turbat al-Hussein", "Hayya 'Ala Khair-el-Amal", and the collection of Ayatollah Kharsan's works in the form of a 46-volume encyclopedia entitled "Mowsu'a of Ayatollah Muhammad Mahdi al-Mousavi al-Kharsan".
It should be mentioned that Imam Ali and Imam Hussein Shrines together with nearly thirty scholarly and cultural institutions organized an international congress to pay homage to Ayatollah Kharsan, which took place on the 17 and 18 of October 2022 in Holy Najaf, and on 23 and 24 of November 2022 in Qom. The event marked the first congress of the series of commemorations under the title "Umana al-Rossol".