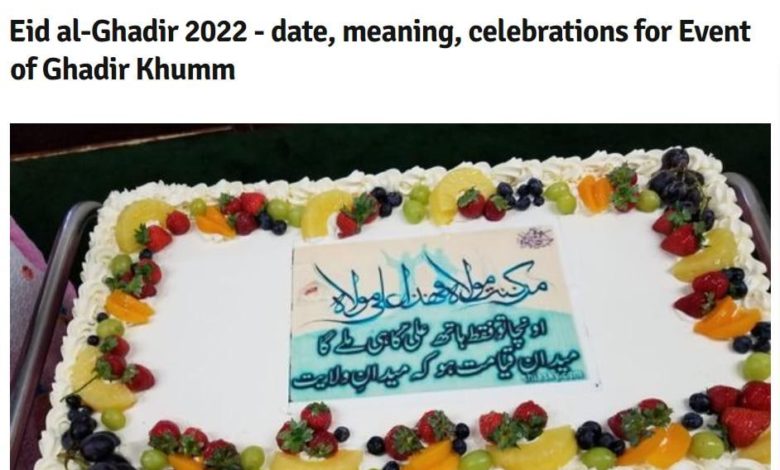 The British local newspaper, "Birmingham Mail", published a video report in which it confirmed that there is a third holiday in the Islamic calendar that many people do not know, despite it being an important moment in Islamic history and culture.
In its report entitled "Eid al-Ghadir 2022" the newspaper said, "After the conclusion of the Eid al-Adha celebrations in the city of Birmingham with the participation of thousands in Small Heath Park, which is one of many public places in this city, Eid al-Ghadir comes after, in commemoration of what the report called the historical event represented by the pledge of Ghadir Khumm, which is also named (the Greatest Day of God), which reflects its great importance.
The report added, "The date of this holiday is the eighteenth of the month of Dhu al-Hijjah, the last month of the lunar Islamic calendar, which also includes other important occasions such as Hajj and Eid al-Adha," noting that "the origin of the name of this event came in relation to the place in which it was held, which is located next to Ghadir, i.e. (Oasis) in the (Khum) region between Mecca and Medina, where the event witnessed the appointment of Imam Ali ibn Abi Talib (peace be upon them) as the legal successor of the Prophet Muhammad (peace be upon him and his family) in the last rites of Hajj and a public sermon performed by the prophet".
The British newspaper quotes Islamic narrations, confirming that "whoever fasts on this day, gets the equivalent of 60 years of worship," adding that "among other acts of worship performed by those who celebrate this holiday around the world, are prayer, washing, dressing one's best clothes, visiting relatives, and offering food to the believers. Locally, among the places where celebrations are held on this occasion, is the Husseiniya of Birmingham, which the faithful flock to perform prayers, recite the Qur'an, and cut the traditional cake for Eid al-Ghadir.
The "Birmingham Mail" indicated that "Eid al-Ghadir is considered an official holiday in some places around the world."