World
President Ilham Aliyev visits Imamzade religious complex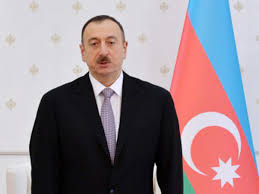 Azerbaijan Ilham Aliyev has reviewed the conditions created at Imamzade religious complex
President of the Republic of Azerbaijan Ilham Aliyev has reviewed the conditions created at Imamzade religious complex in Ganja after major repair and reconstruction.
Dating back to the 8th century, the historical monument Imamzade also known as the Blue dome, the Blue Mosque or the Blue Imam Turbeh, is one of the architectural landmarks of the city of Ganja. Ibrahim, the son of the fifth Imam Mohamed Baqir is buried here.
President Ilham Aliyev first met with representatives of the country`s general public and religious figures.
The ceremony kicked off with the recitation of verses from the Quran and was followed by a word delivered by the head of the state.
After the ceremony, the head of state reviewed the conditions created at Imamzade complex.
President Ilham Aliyev was informed about the repair and restoration of Imamzade religious complex, as well as the landscaping work carried out around the complex. Imamzade complex was restored in the 19th century.
Throughout the centuries, Imamzade has been a holy place for Muslims of Azerbaijan and other countries.