World
Muhammad Ali calls on US Muslims to stand up against Islamophobia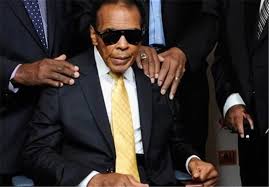 Boxing legend Muhammad Ali criticized Republican presidential front-runner Donald Trump
Boxing legend Muhammad Ali criticized Republican presidential front-runner Donald Trump's proposal to ban Muslims from entering the United States, calling on Muslims "to stand up to those who use Islam to advance their own personal agenda."
Ali, one of the most famous Muslims in the world, issued a statement saying true Muslims know that the ruthless violence of terrorists goes against the very tenets of our religion.
He added that political leaders should use their position to bring understanding about the religion of Islam and clarify that these misguided murderers have perverted people's views on what Islam really is.
The 73-year-old Ali, who was born Cassius Clay, converted to Islam and changed his name in 1964.