World
Indonesia Shias accuse extremists of violating constitution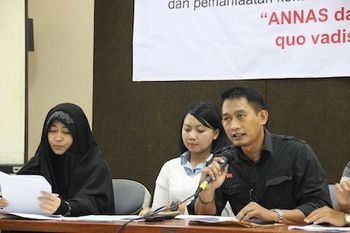 extremist Sunnis and a local government official of violating the constitution
Indonesian minority religion leaders have accused hard-line groups from the extremist Sunnis and a local government official of violating the constitution by disseminating hate speech targeting Shia Muslims.
The Organization of Ahlul-bayt for Social Support and Education (OASE), which mediates conflicts between religious groups, announced plans to sue the Anti-Shia National Alliance and a mayor in West Java province, a lawyer for the non-profit organization said.
At an October 25 alliance meeting attended by thousands of Sunnis, clerics issued several statements condemning the Shia religion. Among the speakers at the assembly were Muhammad Al Khaththath, secretary-general of the Islamic People's Forum, and Munarman, spokesman of the Islamic Defenders Front.
At issue were statements by speakers denouncing Shias as "heretics," calling on banning Shias from commemorating the Day of Ashura.
Emilia Renita Az, an OASE coordinator, said the statements at the assembly and actions by the mayor constituted hate speech. "They can create divisions within society," she said.