World
Marine Le Pen goes on trial charged with anti-Muslim hate speech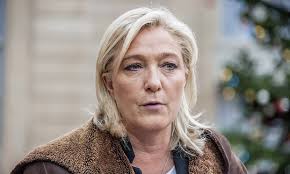 Four anti-racism and human rights groups have brought a case against her on charges of "incitement to discrimination
Marine Le Pen, the leader of France's far-right Front National, is to appear in court in Lyon on hate speech charges after she compared Muslims praying in the streets to the Nazi occupation.
Four anti-racism and human rights groups have brought a case against her on charges of "incitement to discrimination, violence or hatred towards a group of people on the basis of their religion".
The trial begins on Tuesday and it is the first time Le Pen has faced charges for hate speech.
Le Pen made her comments in a speech during a party rally in Lyon in 2010. She referred to "street prayers" after there had been reports of Muslims praying in public in three French cities, including Paris, because of a lack of mosques or a lack of space in local prayer rooms.
When the European parliament lifted Le Pen's parliamentary immunity in July 2013, a preliminary inquiry was opened.
The penalty for inciting racial hatred in France is up to a year in prison and a €45,000 fine.