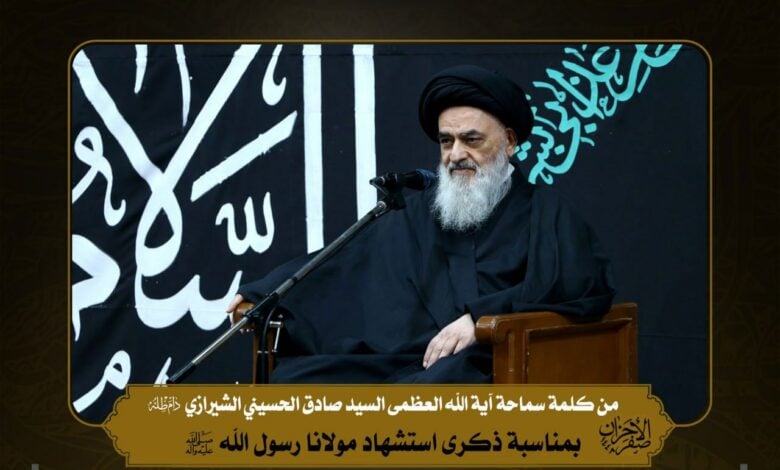 At a time when the Supreme Religious authority, His Eminence, Grand Ayatollah Sayyed Sadiq al-Husseini al-Shirazi, extended his condolences and sorrow on the advent of the anniversary of the martyrdom of the Noble Prophet, peace be upon him and his family, he expressed his sorrow for what the world is going through because of deviating from the policy of the Prophet and his pure family (peace be upon them).
In several speeches, his Eminence Grand Ayatollah Sayyed Sadiq al-Husseini al-Shirazi affirmed that all the political, social and economic problems that humanity is experiencing are caused by the failure to act upon the principles and morals of the Noble Prophet, and the governments' reluctance to follow his policies and the policies of his successor, the Commander of the Faithful, peace be upon him.
His Eminence said in his special speech after the end of the Arbaeen Pilgrimage and the advent of the painful Prophet's martyrdom: ​​"Our contemporary world has been plagued by all kinds of injustice and crimes, and the world has become not free of crime and aggression."
He continued his speech, that "our present time is tainted by injustice and evils more than other times, including the injustice of governments, kinship and many other cases of injustice" due to the failure to act on the principles of authentic Islam that the Noble Prophet brought as a mercy to all humanity.
His Eminence prayed to the Creator to hasten the reappearance of the Awaited Imam Mahdi, peace be upon him, "so that all these injustices and crimes may be removed."