Iraq
Director of Imam Hussein TV Office in Najaf discusses with the security leaders their preparations to receive mourners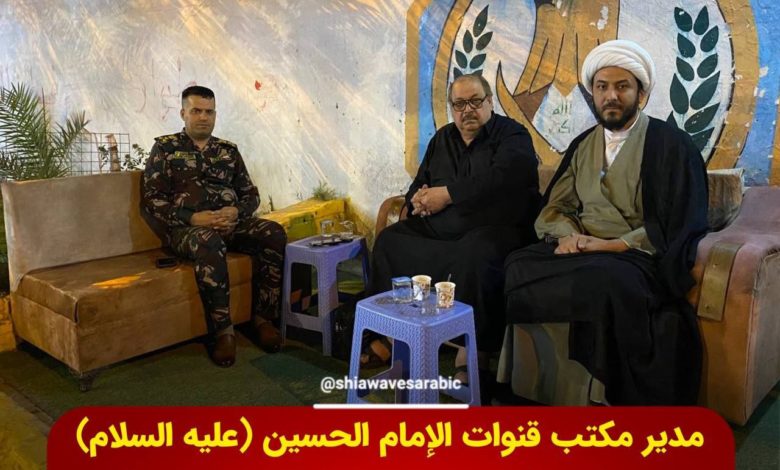 The Director of the office of Imam Hussein TV in the holy city of Najaf, Sheikh Abdul Hamid al-Amiri, praised the efforts of the security forces in the city to protect pilgrims and prepare early to receive the mourning processions on the painful memory of Ashura.
Immediately after announcing the opening of the group's new headquarters in the city, Al-Amiri thanked the security forces and emphasized the importance of the efforts made by them to protect the city of the Commander of the Faithful (peace be upon him) and its pilgrims.
This came during his meeting with the Commander of the Third Najaf Emergency Regiment (the old city), Brigadier General Ammar Abdul Rasoul al-Jubouri, on Thursday.
Al-Amiri said in an interview with Shia Waves News Agency: "The Brigadier General Ammar al-Jubouri affirmed the regiment's full readiness to protect pilgrims during the revival of the months of mourning, receive mourning processions and provide the necessary services for them."
He added that "the holy city will witness a massive influx of pilgrims and mourning processions to commemorate the martyrdom anniversary of Imam Hussein (peace be upon him), which requires doubling the security efforts exerted," adding that "Al-Jubouri stressed his full readiness to protect the city and its pilgrims."
Al-Amiri pointed out that "Imam Hussein Media Group is also fully prepared to cooperate with the security services and support them in the media to create a safe atmosphere for pilgrims" and to make the Ashura rituals a complete success.