Islam World
Associated Press: The largest contemporary Muslim pilgrimage isn't the hajj to Mecca, it's the Shia pilgrimage to Karbala in Iraq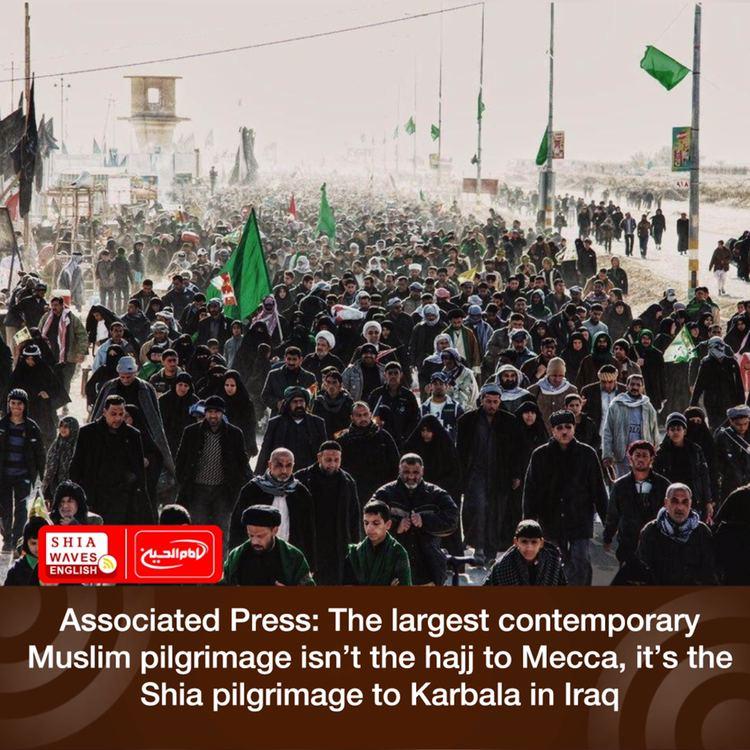 Under the title 'The largest contemporary Muslim pilgrimage isn't the hajj to Mecca, it's the Shia pilgrimage to Karbala in Iraq,' a new study published by the Associated Press by researcher Edith Szanto of the University of Alabama examines the challenges faced by Shia Muslims in
Under the title 'The largest contemporary Muslim pilgrimage isn't the hajj to Mecca, it's the Shia pilgrimage to Karbala in Iraq,' a new study published by the Associated Press by researcher Edith Szanto of the University of Alabama examines the challenges faced by Shia Muslims in their revival of religious rituals over a thousand years.
In her study, the researcher indicated the size of the challenges that Shia Muslims faced, starting with the challenge of the first enemy represented by the Umayyad authorities after the killing of Imam Hussein, peace be upon him, and ending with the challenge of the new enemy, Covid-19.
Szanto said, "The Shias faced these challenges and insisted on reviving their religious ceremonies, in light of their oppression at the hands of the Umayyad authority, leading to Ottoman and Baathist rule and the challenges of terrorism," noting that "millions of Shias around the world continue to visit the cities of Karbala and Najaf, especially on Ashura and Arbaeen," which she described as the largest pilgrimage of the Shias. 
She added that "the Shiites make the pilgrimage to the shrines of Imams Ali and Hussein (peace be upon them) to be blessed with their dignity," noting that "the blessing of the two shrines is not limited to living visitors, but also brings the bodies of the dead Shiites from all over the world to be buried in the cities of Karbala and Najaf as blessing."
The researcher asserts that "the city of Karbala is witnessing an annual increase in the number of visitors, which reached more than 22 million at the lowest estimates, and with this year the revival of Ashura this year, Shias gathered in Najaf and Karbala, but on a much smaller scale. There was social distancing, but not everywhere. Not all pilgrims wore masks. In the absence of stringent measures, the number of infections in Iraq has already spiked. Whether the government will respond with stricter policies for the pilgrimage at the beginning of October remains to be seen."