Islam World
Quranic course for memorizing, reciting and interpreting Surat Al-Rahman in the Netherlands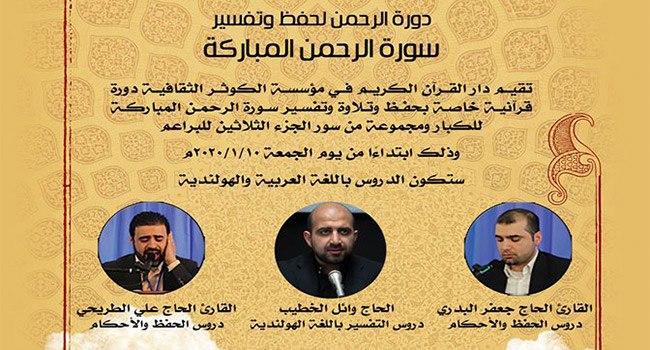 The Quran House at the Al-Kawthar Cultural Foundation in the Dutch city of The Hague launched a Quranic course on memorizing, reciting, and interpreting Surat Al-Rahman for adults and select
The Quran House at the Al-Kawthar Cultural Foundation in the Dutch city of The Hague launched a Quranic course on memorizing, reciting, and interpreting Surat Al-Rahman for adults and select surahs of the thirtieth chapter for the youth. 
The lessons of the Quranic course are in Arabic and Dutch languages, in which both youths and adults participate. 
This Quranic course will continue until April, in the building of Al Kawthar Cultural Foundation in The Hague, Netherlands.