Islam World
IS 'School of Jihad' trains small children how to behead and torture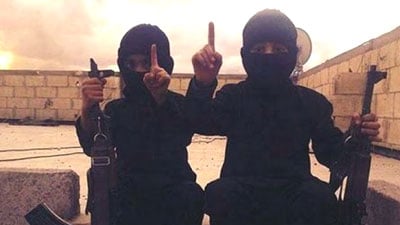 Shifting beheading and torture for future generations, IS 'Jihad' training schools are now new missionary in Salafi takfiri school of thought in Middle East.
Official IS media outlets are circulating videos and images which they claim show life in the "School of Jihad", where children under the age of 10 are encouraged to fire AK-47 rifles and adapted to the horrors of war.
As part of a series of propaganda releases, young children appear in videos that experts say are an attempt to show the "utopia" of the world under IS.
Yet what they actually portray has been described by a UN human rights council report as "a war crime", that is the recruitment and military use of children under the age of 15.
Human rights activists condemned the videos as "deeply disturbing", showing ISIS's tendency to "imitate traditional institutions with their own 'courts' and 'schools'".