Islam World
Shia pilgrims complain of harassment by Saudi security at the airport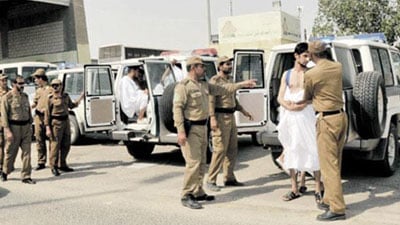 Many Shia pilgrims, pouring to the sacred land to perform the rites of Hajj for this year, have expressed dissatisfaction with what they described as racist and sectarian practices committed by employees in the Saudi airports who receive delegations of pilgrims. 
A number of Shia pilgrims said in a phone call to Imam Hussein TV that Saudi security men at the airport did provocative procedures towards them under the pretext of inspection and security concerns, stressing at the same time that some of the security men uttered offensive words against Shia Muslims. 
They added that some the security personnel at airports in Saudi Arabia deliberately hurt the Shia clerics, and students of religious scientific seminary schools, in particular, in order to abuse them, expressing  their deep hostility and hatred against the followers of Ahlul Bayt, peace be upon them. 
it is to mention that the Shia pilgrims suffer over the past decades from such provocative practices of the security personnel and some of the staff of the Saudi airports, which has become an ongoing and frequent phenomenon.