Islam World
Quran in Braille gifted to the blind association in Yemen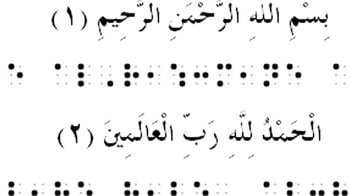 copies of the Holy Quran in Braille to the Rehabilitation Association for the Blind in Seiyun city
Kuwait's Nur Al-Furqan Institute gifted copies of the Holy Quran in Braille to the Rehabilitation Association for the Blind in Seiyun city in the Hadhramaut Governorate of Yemen.
According to sources, 24 copies of the Divine book were gifted in a ceremony to the association.
Ivaz Hadi Bajbir, member of the local council of the city said in the ceremony that the charity measure of the institute is the first step for the mutual cooperation between the association and the institute.
He expressed hope that the association will be equipped with other sources on Quran interpretation, history and literature which are needed by the blind.
Hussein Al-Sabaya, a Yemeni charitable citizen of Kuwait has cooperated with the institute to gift the Quran copies.
Also speaking in the ceremony, Aqeel Salim Al-Kaf, head of the association thanked the institute and asked other charity centers to help the Yemeni people.
Yemen has been suffering from an aggression for more than a year.
Since March 2015, Saudi Arabia and some of its Arab allies have been launching deadly airstrikes against Yemen.