Islam World
Rallies in Qatif marking the 40th day after Sheikh Nimr's execution)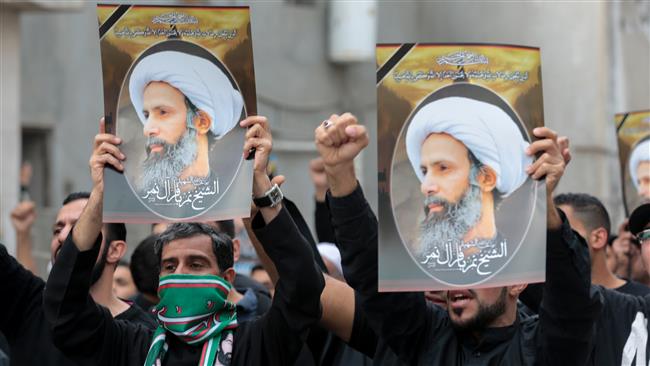 protest was held in Qatif in the restive Eastern Province, where protestors chanted "Death to Al Saud"
Thousands of people hold rallies in Saudi Arabia and Bahrain to mark the 40th day since the execution of prominent cleric Sheikh Nimr al-Nimr by Saudi regime.

 
Reporting from Ahlul Bayt News Agency (ABNA),

A protest was held in Qatif in the restive Eastern Province, where protestors chanted "Death to Al Saud" and "Down with the House of Saud" to denounce the ruling Saudi family for the execution.

 

The protest came a day after Sheikh Nimr's family called on Saudi authorities to hand over his body.

 

The Saudi regime executed Sheikh Nimr on January 2, defying international calls to release him. The execution sparked international condemnations and angry protests in many countries. 
Shia Muslims have long complained of discrimination in a country where the official Wahhabi ideology condones violence against them. 

The Shia-dominated Eastern Province has been the scene of peaceful protests since February 2011. Protesters have been demanding reforms, freedom of expression and the release of political prisoners. They demand an end to the economic and religious discrimination against the region.