Islam World
ISIS massacred 350 people in Syria's Deir Ezzor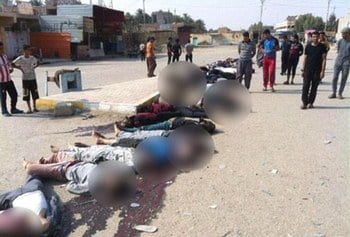 terrorists in Syria have killed nearly 300 civilians and an estimated 50 government soldiers
Takfiri ISIS terrorists in Syria have killed nearly 300 civilians and an estimated 50 government soldiers in a bloody attack on the eastern city of DeirEzzor in what the local media criticized as a "massacre."
Syria's state news agency SANA reported the carnage on Saturday, saying that ISIS terrorists carried out a massacre in al-Baghaliyeh, located in the northern outskirts of DeirEzzor, claiming the lives of around 300 civilians, most of them women, children and elderly people.
This is while the Takfiri terror group proclaimed that its forces staged several "suicide bombings" against Syrian troops in DeirEzzor and seized control of its northern suburb.
The DeirEzzor massacre came as Syrian armed forces killed at least 16 terrorists, and conducted air strikes against their key stronghold in the northeastern city of Raqqah.