Islam World
Daesh-fired rocket hits mosque in Afghanistan, leaving six worshippers martyred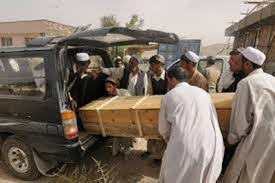 Six 

worshipers

 have been martyred and four others wounded after a Daesh-fired rocket
Six worshipers have been martyred and four others wounded after a Daesh-fired rocket landed on a mosque in Achin District of eastern Nangarhar province, an official said. 
Governor of Achin District said that the incident took place in Pandola area, adding that dozens of people were at the mosque to offer prayers when a rocket hit the mosque. 
The rocket was fired by IS he said, pointing out that, the target was a security post but it hit the mosque. 
Achin District, a mountainous area which shares a border with Tirah valley of Pakistan, is a stronghold of Daesh group in Nangarhar province. 
The district witnessed several IS-organized attacks most recently in which hundreds of terrorists were killed but the group is still believed to have nearly 1,000 fighters there.