Islam World
Ban Ki-moon says war in Syria symbol of global failure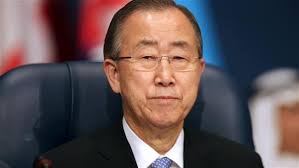 ecretary General Ban Ki-moon has described the years-long bloodshed in Syria as a "shameful symbol"
United Nations Secretary General Ban Ki-moon has described the years-long bloodshed in Syria as a "shameful symbol" of global failure and divisions.
Ban told the UN Security Council (UNSC) that he was "profoundly disappointed" that previous resolutions aimed at preventing further violence in Syria had not been implemented.
He added that "atrocious crimes" were now taking place on an almost hourly basis.
The UN chief further urged the 15-member council to support Special Envoy to Syria Staffan de Mistura's proposal for talks to end the foreign-backed conflict in Syria.
Syria has been dealing with a deadly foreign-backed crisis since March 2011. According to reports, close to a quarter of a million Syrians have been killed in the crisis. Nearly half of the country's population– 12 million people– have been forced to flee their homes.