Holy Shrines
Winners of Quranic competition awarded in Karbala, Iraq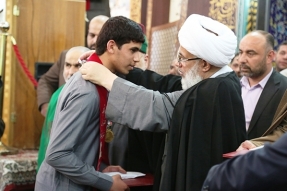 Iraq's national Quran memorization competition were awarded in a ceremony on February 14th
The winners of the 4th edition of Iraq's national Quran memorization competition were awarded in a ceremony on February 14th in the holy city of Karbala.
According to the Dar al-Quran of the Imam Hussein Holy Shrine, the competition was organized for the participants in the "Plan for Training 1000 Quran Memorize-rs".
The program was attended by the vice-president of the Shia Endowment, the Secretary-General of the Holy Shrine, 800 Quran memorize-rs from different provinces of Iraq and a number of religious and cultural figures of the country.
Sheikh Abdul Mahdi al-Karbalaei, Imam Hussein Holy Shrine's Secretary-General, delivered a speech in the ceremony and highlighted the importance of the Quran in the Islamic society and the role of the holy shrines in training a Quranic generation.