NEWS
Tens of millions of pilgrims poured into Holy Karbala to mark Arbaeen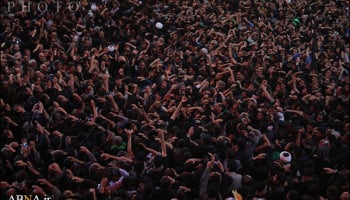 number of pilgrims is likely to exceed 20 million
Iraqi officials said that the number of pilgrims is likely to exceed 20 million, which was the figure of the last Arbaeen Pilgrimage.
The pilgrims who are from over 60 countries have converged on the Iraqi holy city of Karbala to hold mourning rituals marking Arbaeen.
Arbaeen, on which one of the largest religious gatherings in the world is held, is the 40th day after Ashura, the martyrdom anniversary of Imam, Imam Hussein, peace be upon him.
Meanwhile, an Iraqi security source said the five terrorists who sought to carry out suicide attacks against Arbaeen pilgrims were captured.